May 2019
| Mon | Tue | Wed | Thu | Fri | Sat | Sun |
| --- | --- | --- | --- | --- | --- | --- |
| | | 1 | 2 | 3 | 4 | 5 |
| 6 | 7 | 8 | 9 | 10 | 11 | 12 |
| 13 | 14 | 15 | 16 | 17 | 18 | 19 |
| 20 | 21 | 22 | 23 | 24 | 25 | 26 |
| 27 | 28 | 29 | 30 | 31 | | |
Calendar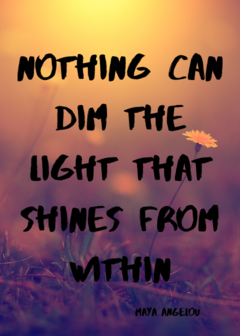 Gene activity can change on a daily basis. Dr. Bruce Lipton discovered 16 years ago that we are not victims of our genes as been told for so many years, we activate the inherited gene through thought.

If the perception in your mind is reflected in the chemistry of your body, and if your nervous system reads and interprets the environment and then controls the blood's chemistry, then you can literally change the fate of your cells by altering your thoughts.

In simplest terms, we need to watch how we program our children, as their first six years of life are the most important. A child up to the age of 6 years or so, only records it's environment, it has no way of discerning what is right or wrong, good or bad, a child is like a sponge at that age.

Here is an example of what NOT to say to your child: "You look like your dad a lot, and his family has a long history of prostate cancer" or " You know Rose, there is a history of breast cancer in our family, your auntie May had it, I had it, hope you don't get it". What you have done (unknowingly of course), is through suggestion, implant that thought and most likely that child will develop the inherited disease if it's repeated enough times.
It's not just physical disease that we are talking about: "Don't pet that dog, it will bite you". What you have done is program your child to fear dogs.
16 years ago we all thought our life was Russian Roulette.
You won't see this in mainstream science because the medical and pharmaceutical companies would go out of business if you knew you could prevent or heal your body from disease.

The good news is that there are techniques to erase the programming and or to de activate the inherited gene causing illness and this is why it's not out in the public. You have to look for it to find it.

We as parents love our children and want the best for them, but we also unknowingly program them with our belief systems and they grow up accepting them as theirs. Not all children grow up with their parent's belief systems, but let's face it, most of our childhood is based on what our parents, teachers, caregivers, grandparents told us to be fact based on their beliefs.

I have been working as a TCM practitioner and holistic healer for 10 years now. I actually use the techniques to determine if my clients are suffering from an epigenetic disorder before treating them for physical problems. I also work with clients on removing the negative programming and am in the process  of writing a book on Epigenetics and Children.

Currently I live in Croatia, but spent most of my life living and working in Vancouver B.C. If I can help in any way, it would be my pleasure!
Admin




Posts

: 1552


Join date

: 2014-02-14


Age

: 51



Ok, you got me. What does bump mean?
It just bumps the post to the top of the scroll! As I add more content the current content gets pushed to the bottom, so if you go and write bump on a post it pushes the article back to the top! I want these articles seen, they are very interesting!
Admin




Posts

: 1552


Join date

: 2014-02-14


Age

: 51



This is an awesome thread. My grandson Gavin has an acute allergy to cats as does his father. Since I have 2 felines (one I adopted from Gavins Mom) this creates so many challenges especially at holidays. Gavin no longer can come to visit.

Is there any thing I can do to help alleviate this problem?

Thanks
Hello,
I would really appreciate your name when leaving questions, makes it a bit more personal and I'm not a robot

How old is Gavin? How many or does he have brothers or sisters? What other allergies does he have and what total allergies in the home.
This is a very complex situation so it's impossible for me to give you answers before I get more information. There is solution, if it is a genetic transfer I need to know if it's a psychological or organic allergy. Keep in mind that every cell contains memory, so these inherited traits can go back very far.
So, answer my questions and then I might need more, but we will get to the end of it.
It's more likely that the father will need to remove the "blockage" of allergies and that could help Gavin instantly, or then just work on Gavin.
Hope this helps for now, but please give me as much information as you can about Gavin.
Ines Radman

---
Permissions in this forum:
You
cannot
reply to topics in this forum